Press Release April 26th, 2012
mishmash*Julie Watai
World debut single claims 1st and 2nd on Amazon Japan Sales Charts!
Upcoming musical act mishmash*Julie Watai has released its debut single in two flavors, Japanese and English. As of April 20, it claimed the overall 1st and 2nd spots on the MP3 songs best sellers list on Amazon.co.jp.The accompanying music video's character design was handled by kerokeroking, and further such collaborations with internationally acclaimed artists can be expected going into the future.
[About mishmash*Julie Watai]
Musical act mishmash*, the brain child of Toyoaki Mishima and masuyama_com, welcomes Julie Watai as the featured vocalist. A special event "mishmash*Julie Watai Secret Event" was held on April 14, 2012 at the Roppongi venue Shinsekai to publicly announce the project, and four tracks: "Veiled by Reverb," "Roll of Love," "Go Furby Go!," and "3 Minute Shakespeare" were performed live for the first time ever.
 Artist Illustration by PansonWorks
masuyama_com (producer, lyricist, image left)
A producer of media content spanning a variety of genres, from videogames (author of "The Culture of Videogames"), finance (author of "MoneySmart"", scenario writer for "M.I.Q."), to art. Based in Tokyo and Boston.
Julie Watai (vocalist, image center)
Photographer acclaimed for her collection "Samurai Girl," which sold 1.2 million copies across the globe. Producer of Hardware Girls Magazine. Based in Tokyo and Rome, Italy.
Toyoaki Mishima (composer, programmer, image right)
Long time sound programmer for Cornelius, nominated for the Grammy in 2008. Based in Chiba, Japan.
mishmash*Julie Watai Official Facebook Page
https://www.facebook.com/mishmash.JulieWatai
mishmash*Julie Watai Official YouTube channel
http://www.youtube.com/user/mishmashJP
[World debut single claims top spots]
"Koi no Tamashii" (Japanese ver.) iTunes preview page(US)
"Roll of Love" (English ver.)     iTunes preview page(US)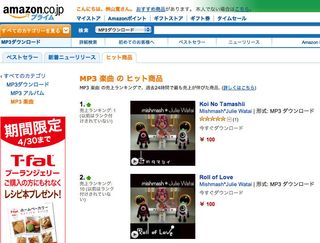 The above two songs were released on April 15, 2012 on iTunes Store, Amazon Japan music store, Spotify, Google Play, and OTOTOY in markets across the
globe, from the United States, Canada, Australia, New Zealand, Great Britain, the European Union, Mexico, South America, to Japan. On April 20, 2012, "Koi no Tamashii" sat at n umber 1 overall and "Roll of Love" at number 2 on the Amazon Japan MP3 Best Sellers list.
[Music video designed and directed by kerokeroking]
The music videos for "Koi no Tamashii" (JP) and "Roll of Love" (ENG) were created by kerokeroking, who broke out in the 1990's for Fuji TV's animation "Connie-chan" and "Ukulele-man." His recent project "U-900" is very popular in Thailand and other Asian countries.
[More to come...]
Their 2nd single "Veiled by Reverb" will be released in June 2012. The music video for the song is directed by Ryota Kuwakubo (http://en.wikipedia.org/wiki/Ryota_Kuwakubo ), who has been highly acclaimed among the international media art community. This will be the first music video in Mr. Kuwakubo's career.
Yugo Nakamura ( http://en.wikipedia.org/wiki/Yugo_Nakamura ), one of Japan's leading web designers, has also joined the team and is preparing mishmash* Julie Watai's special website.
mishmash*Julie Watai is featured as the cover story of Sound and Recording Magazine's (JP) May 2012 issue. The vocal track to their 3rd single "Don't shoot me, I'm only the pin-up girl" was handed over to five major Japanese pop music arrangers, who each made different instrumental tracks for the song. The magazine is also organizing an open competition for (non-professional) musicians/readers. The vocal track is attached in a CD-ROM included with the magazine.
The lyrics for the English versions were written with the help of Kento Masuyama, a PhD student at the Massachusetts Institute of Technology.
press contact: mishmash.JulieWatai (at) gmail.com